Inspiring Caesarstone Countertops
If you are thinking of investing in a quartz countertop, what you are actually considering is a caesarstone counter. Different to quarried pieces of solid stone like marble and granite, caesarstone is composed of 93% quartz crystal particulates which are locked together through pressing and heating.
The result is a highly durable stone and surface which can vary in regard to pattern, texture, and color, in much the same way that granite can. The only difference is that a caesarstone countertops is actually much stronger than both granite and marble. In this case, it is the ideal choice of kitchen countertop material for busy and well-used kitchens especially.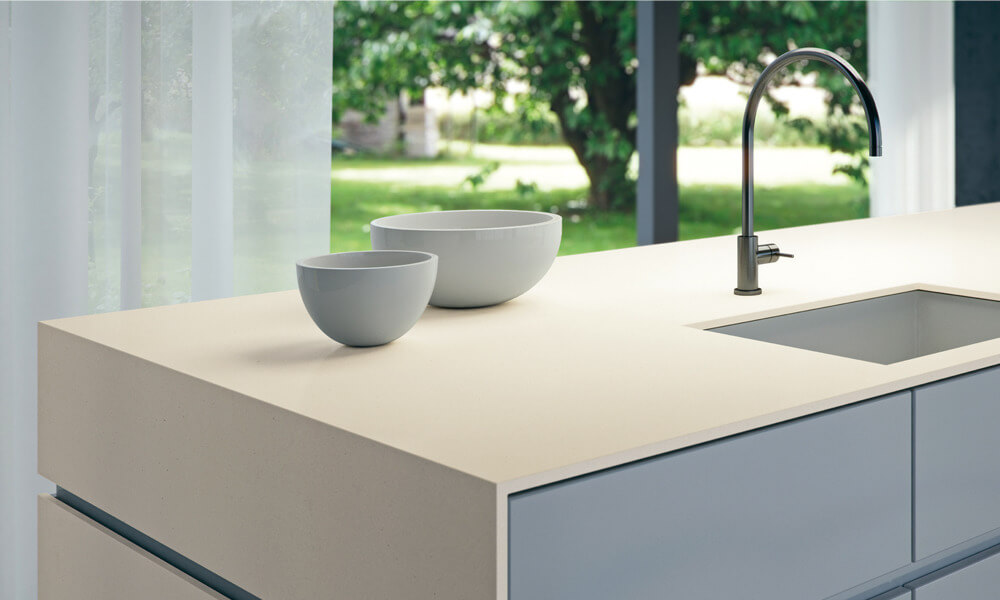 Is Caesarstone Natural?
Because a caesarstone countertop itself isn't made from one single piece of stone, many people question how it can be referred to as natural. In this regard, it is important to note that any manufacturer of caesarstone has to meet a variety of strict guidelines. Pigments and polymer resin make up only a tiny percent of any countertop. The stone in itself in the meanwhile actually comes about due to the same heating and pressure forces which take place deep underground in order to create rocks such as granite. The only difference is that when manufacturing caesarstone, such forces are created artificially.
Does this mean that a caesarstone surface isn't 100% natural? In a way it does. However, it's having to wait for the Earth to get granite ready (before then mining slabs accordingly) that granite itself is so expensive.
Why Should you Consider a Caesarstone Countertop?
Because quartz countertops are often just as eye-catching as granite and marble ones, they make a beautiful addition to any kitchen. Stone surfaces themselves are available in a variety of colors, textures, and patterns. This means that you can achieve that distinctly mottled red granite look for considerably less than having to invest in a granite counter itself.
However, as well as being just as beautiful as granite and marble, caesarstone is also just as versatile. In this respect, any kind of custom countertop design can be just as easily rendered in caesarstone as it can be in granite. This makes a quartz surface ideal for anyone planning a custom kitchen renovation, who is also looking to cut costs to a minimum.

How easy is Caesarstone to care for?
Have you heard horror stories about broken granite counters and stained marble kitchen work surfaces? If so, you can rest assured that you will rarely if ever experience any such problems with caesarstone. Being harder than granite, the stone is much more resistant to scratches. In like regard, durability is further bolstered by the fact that caesarstone is completely waterproof and color fade resistant, even when placed in direct sunlight.
Are Quartz & Caesarstone Countertops Expensive?
When it comes to affordability, it's no secret that a laminate countertop will always be the best option for those on the strictest of budgets. However, when compared to granite and marble, caesarstone is definitely the next best and most affordable material which you should think about incorporating into your kitchen. It has the same visual appeal, it's available in just as many different design and styling options, and it is just as (if not longer) lasting.