Beautiful Laminate Countertops
It's no secret that for some homeowners, laminate kitchen countertops simply aren't worth considering. In large part, this is because laminate countertops don't have the same natural appeal of stone counters. In like regard, the plywood, fiberboard, and plastic look which laminate countertops embody simply isn't something which many homeowners want to make the focal point of their kitchen.
However, laminate countertops don't have to be a cheap 'it will do' alternative to more natural looking countertops. In fact, modern laminate materials offer just as much durability as more expensive materials. This being the case, we specialize in manufacturing and installing beautiful laminate countertops which offer just as much functionality as any higher priced counter will.

Why Laminate Countertops are Definitely Worth your Consideration
Whenever surveyed, the majority of homeowners almost always show preference towards natural stone countertops. However, the simple reality is that not every home serves solely as a showcase of its owner's design preferences. Rather, for young families and first-time home buyers, homes and kitchens are ultimately lived in spaces, homes where there is always something on the stove and a lot of activity centered around the kitchen itself. Given the above, a custom laminate countertop is ideal for those who need a functional kitchen without the stress or worry associated with having to pay special attention to how countertops themselves are treated and cared for.
Key Benefits of Laminate Countertops
As a rule, even a custom laminate countertop is significantly cheaper than a stone or wood alternative. This being the case, if you are are looking to renovate or revitalize a kitchen on a budget, a laminate countertop is definitely the right choice. At the same time, the fiberboard and plastic finish of the average laminate countertop has come a long way since the 1970's. In fact, laminate today can be just as visually impressive as a natural stone.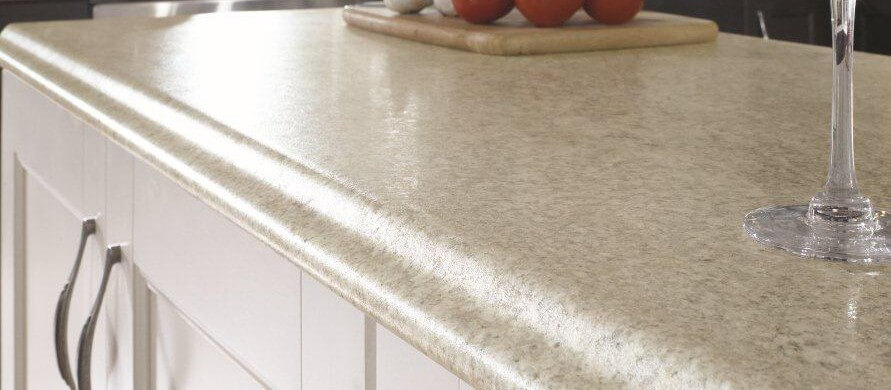 Excellent Usability & Lifetime
Are you worried about a laminate countertop not being as lasting as a natural stone or wood alternative? If so, don't be. A laminate countertop can take a lot of wear and tear. In fact, stains, heat resistance, and occasional knocks will rarely if ever be a problem. The only thing which you will need to worry about will be scratching. This, however, can be easily avoided by always remembering to use a chopping board.
Low Maintenance
Do natural stone countertops really offer better durability than laminate counters? While the answer to this question might seem like an obvious yes, it's important to take into account a few other factors. A granite countertop, for example, will need to be resealed at least once every two years due to the materials porousness. In like regard, if you stain a marble countertop, there simply isn't any way of going back from that. This being the case, for home cooks and families, in particular, laminate countertops can represent both better longevity and savings in regard to ongoing maintenance costs.