Whether you are remodeling your entire kitchen or simply looking for a way to revitalize the appearance of your existing kitchen, a high-quality kitchen countertop is an absolute must.
That said, investing in a new kitchen countertop isn't just about looks. Any countertop model which you choose has to be durable, heat -resistant, and ideally scratch resistant. In like regard, some natural stone countertops are actually porous. This means that if you are thinking about investing in a countertop made of a porous stone such as marble, you need to familiarize yourself also, with how to care for such a surface and maintain it for as long as possible.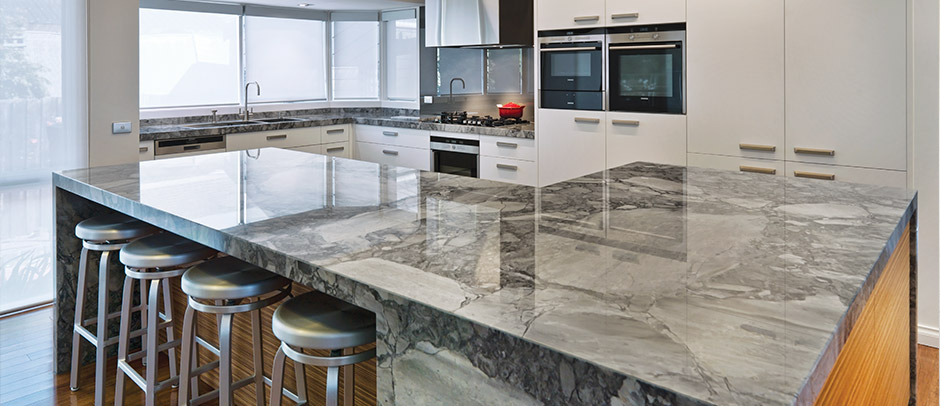 Providing you with the Widest Choice of Countertop Surfaces
Based out of Toronto, and specializing in providing exceptional quality kitchen countertops and installations, we're acutely aware of how a kitchen counter serves as the focal point of any kitchen. This is why we strive to provide our Toronto customers with the widest selection of countertop materials currently available.
Expertly crafted, our quartz, marble, granite, stone and even laminate countertops are of the highest possible quality. Available in a wide selection of colors, we also focus on providing countertops which are ultimately functional as well as just eye-catching. In this respect, our range of countertops are machined and finished in such a way that maximizes durability, heat resistance, and scratch resistance. Even better, with porous materials such as marble and granite, we seal such countertops so that you don't have to worry about staining of your counter, even in busy home and commercial kitchen environments.
Choosing the Right new Countertop for your Kitchen
Because a countertop is the primary focal point of a kitchen, it is important to choose a material and design which complements both your existing kitchen style and architectural layout. However, the visual appeal of a new countertop isn't always dictated by your choice of material alone.
As a case in point, granite countertops are prized by many homeowners due not just to the materials durability but also the wide variety of colors and hues granite countertops are available in. Whether light or dark, granite countertops are available in colors ranging from imperial blue to grained crimson and even white. Because of this, and because granite counters are slightly more durable and easier to maintain than either soapstone or marble, they make an excellent choice for homeowners looking to marry a natural stone effect with a high level of versatility and functionality.

Why Choose Us?
Because of our unrivaled commitment to quality, we're already many Toronto residents first choice when it comes to sourcing stunning new kitchen countertops. However, the individual customers and business clients who we work with don't just love us for our the exceptional quality of our countertops. Instead, they love us because we offer even premium grade marble, soapstone, and granite countertops at the most affordable prices possible.