Inspiring Quartz countertops
Are you looking for a natural stone surface for your kitchen which is ultimately easy to care for? If so, while granite always seems to steal the limelight at any kitchen showroom, you might want to start thinking about a quartz countertop instead.
Quartz, after all, is a truly beautiful stone to put on display in your kitchen. However, unlike other stones, it is also naturally non-porous, heat resistant, and ridiculously easy to maintain.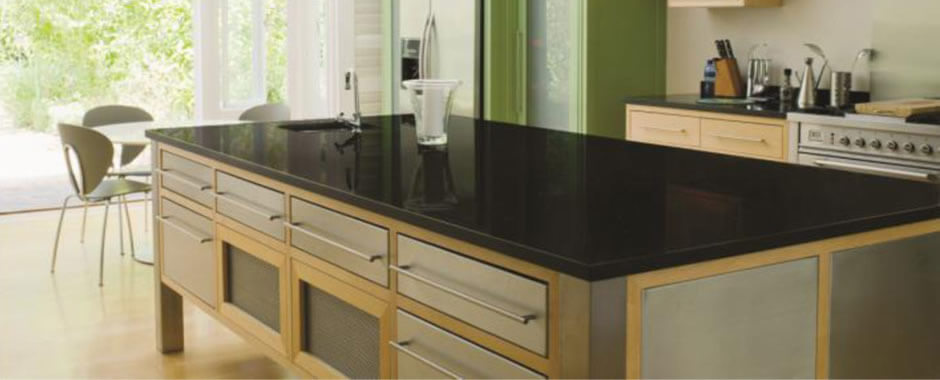 Top Reasons why a Quartz Countertop Might be Right for You
Based out of Toronto, we pride ourselves on providing a variety of exceptional quality counter surfaces to both individuals and property developers. However, quartz is definitely one of our personal favorite counter top materials. Quartz is elegant rather than bold like granite. The texture, surface pattern, and color of quartz, is in the meantime, much more exciting and much more durable than marble. Even better, despite being harder and more rugged than granite, soapstone or marble, quartz is actually cheaper also. In this case, what's not to like?
Easy to care for even in the Busiest Kitchens
Becoming increasingly popular in Toronto, more and more people are being drawn to quartz as a kitchen work surface material, due simply to how easy it is to care for. Being one of the hardest natural stones on Earth, quartz itself is remarkably scratch resistant. Of course, anything which can be cut and shaped can be scratched and a quartz countertop is no different. However, an accidental slip of a knife or dropped utensil likely isn't ever going to cause harm.
At the same time, quartz is naturally water resistant and antimicrobial. This means that a quartz countertop can be easily wiped clean after use. In like regard, no spillage will ever stain a quartz surface, nor will a hot pan or baking tray ever leave a lasting impression. The only question is, is quartz really as beautiful as it is easy to care for?

A Range of Color and Texture Varieties
At our Toronto showroom, we take pride in showcasing only the most beautiful quartz countertops. However, contrary to popular belief, a quartz countertop doesn't have to be just white or clear. Rather, quartz as a stone is available in almost as many color varieties as granite. From deep reds and dark black shades to yellow gold and green, there is a quartz color and texture suitable for any personal taste or style. In fact, when dark gray and black quartz is transformed into a countertop, it can be difficult for many people to distinguish between quartz and more costly stone surfaces such as granite and marble.
Granite Vs Quartz
Are you struggling to decide what kind of natural stone might be best for your kitchen? If so, quartz being so easy to care for is definitely something you should consider. You will never need to re-seal a quartz surface at any point over its lifetime. In like regard, quartz itself can be cut and machined in such a way that it can be just as versatile to use in any kind of custom kitchen design as granite. The difference in this case lies predominantly with the pricing of the two stones.