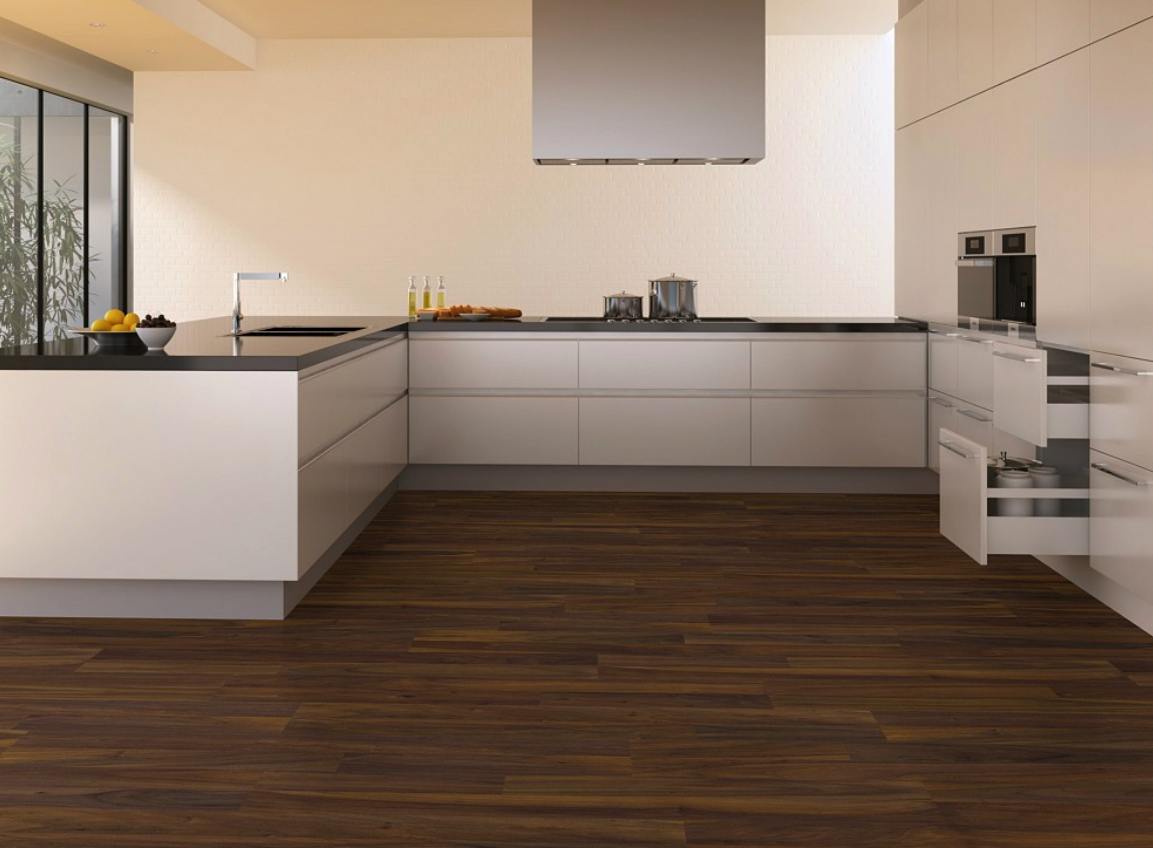 Useful tips that can make a room look beautiful
It is necessary that you take durability and function as a priority when thinking kitchen flooring ideas and the good news is that modern day flooring are made to be durable and low maintenance. But with the array of available material options and styles choosing the one that suits you the most, can be overwhelming. However, do not worry. This article was written to assist you find the perfect flooring for your kitchen.
The function of the flooring is the most important factor to consider when thinking about kitchen flooring ideas. The kitchen is an area where most activities take place, plus it is highly prone to spills ranging from oils, wine to water and so on. Make sure you choose kitchen flooring materials that are durable and low maintenance.
List of leading durable flooring options, they are:
Rubber flooring
Concrete
Tile
Stone
Wood laminate
Vinyl
Other than durability, Flooring that has some cushioning is also useful especially if you have back issues. Also, most cooking usually requires standing and walking back and forth for long periods, so this feature is important for everyone.
List of the most ergonomic flooring options, they are:
Cork
Bamboo
Carpet tiles
Wood
Wood laminate
Vinyl
Rubber flooring
Arranged in an alphabetical order, here are the pros and cons of each of the kitchen flooring materials available for your kitchen.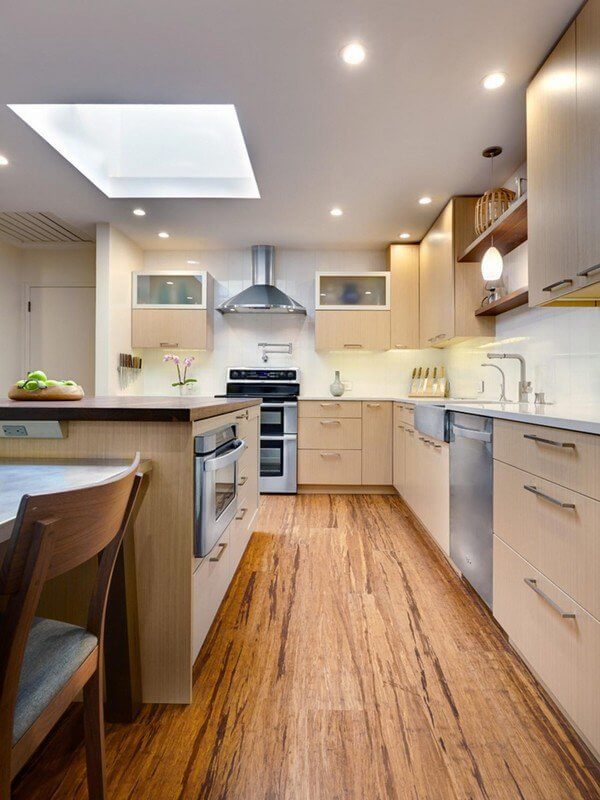 Bamboo Kitchen Flooring
If you are a lover of eco-friendly products, bamboo is your best choice because they grow very fast and bamboo is a good, sustainable material source for flooring. it is an amazing kitchen flooring material and its strength is one of the highest of the natural materials on the market.
Tips: go for the product with the longest warranty possible. Usually, the length of the warranty reflects the quality of the bamboo flooring. Also, choose the bamboo flooring products that are from reputable brands.
Pros: long warranty available, eco-friendly, durable, beautifully grained.
Cons: Some can dent easily.
Carpet Kitchen Flooring
Due to its low maintenance and difficulty in cleaning, carpets have been the least popular kitchen flooring option in history. But with the recent carpet tiles, they may be the perfect kitchen flooring idea. They offer a solution to the modern kitchen flooring, designed and tested to be industrial grade for areas with high traffic, easy to install, made of easy to clean, durable materials and the best part is that it can be easily removed for replacement or cleaning.
Tips: For a contemporary look, selectively use carpet tiles in different areas of your kitchen like the image above, than laying them from wall to wall. Get a carpet tile from a reputable company like Flor, made for the modern, DIY consumer. Buy an extra box of tiles for future replacements.
Pros: recyclable, durable, modern textures and colors, soft and padded
Cons: requires frequent vacuuming and cleaning.
Concrete Kitchen Flooring
Concrete kitchen flooring is highly durable that it can withstand any activity in even the busiest kitchens. They look great and they give a contemporary tone and look to the kitchen.
There are array of finishes that can be used on concrete to customize its look, it can be stamped, waxed, stenciled polished, and stained.
Tips: consider adding a floor heating underneath the material's cold surface that is if you prefer concrete flooring and live in a colder climate.
Pros: versatile, contemporary looking, Durable, moisture resistant.
Cons: it is cold and hard, if standing for prolonged periods, can stain, needs re-sealing.
Cork Kitchen Flooring
If you want good kitchen flooring with a padded feel underfoot and with a unique texture, Cork kitchen flooring is your best choice. It is also a good choice if you're worried about noise and temperature change, Cork has you covered because it is a natural insulator. Thanks to a waxy substance contained in it, cork is naturally anti-microbial and repels both pests and insects. It is also easy to install, making it a good DIY solution especially if you are on a budget.
Tips: select high quality cork like wood, it can be periodically refinished and sanded. Be sure to choose the cork that has a durable finish that can repel moisture and water. If you are selecting cork tiles, buy an extra box of tiles for future replacements should a tile become damaged.
Pros: anti-microbial, Earth friendly, soft, attractive texture options, padded feel.
Cons: can easily get dent or scratched, this can create imperfections on it that may bother some home owners.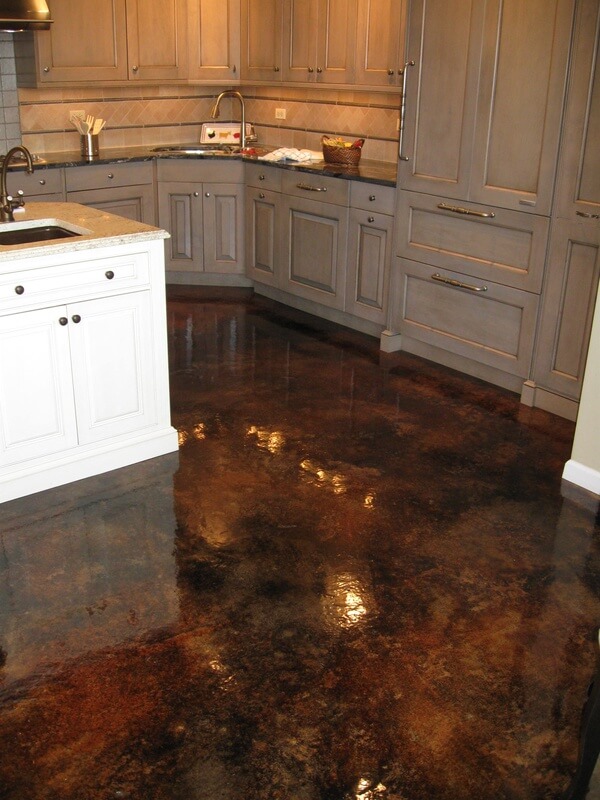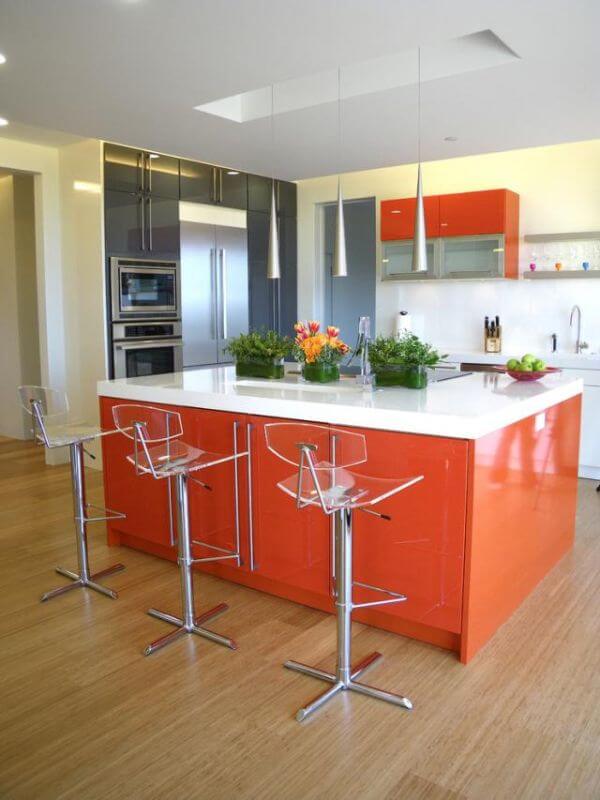 Laminate Wood Kitchen Flooring
This is a highly affordable and durable kitchen flooring idea. It is becomes cushioned, If you add padding beneath it, making it an ergonomic flooring solution. The top layer is durable and it comes in various styles and design. They are also easy to install and they provide modern solution for the kitchen floors.
Tips: some laminate flooring come with a 25 year guarantee; make sure you choose the ones with the longest warranty. Install a is foam sheet underneath for extra cushioning when standing,
Pros: cost effective, easy to install, durable, variety of options, and easy to uninstall.
Cons: may be slippery, not refinishable, It is not as valued as real wood flooring, can be noisy.
Rubber Kitchen Flooring
Cork and rubber kitchen flooring share similar properties but rubber kitchen flooring has a larger variety of textures and colors. It is available in tiles or sheeting. Thanks to its high-grip properties, it is easy to install. It is also adhesive-free, It has a non-slip surface and it is durable.
Tips: go for richer, darker colors, this help hide oil stains better. Compared to sheeting, rubber tiles are easier to install. Choose recycled rubber flooring, for an earth-friendly kitchen floor,
Pros: naturally water and fire-resistant, Recyclable, easy to clean, durable, padded soft feel.
Cons: oils may stain the rubber's surface and some people are sensitive to their smell.
Stone Kitchen Flooring
This type of kitchen flooring gives your kitchen a unique, earthy look. They come in different pattern and color and the most popular variety of stone flooring includes slate, marble and travertine.
This flooring is perfect in hotter regions since it is naturally cool. But, remember to install a sub-floor radiant heat if you are installing stone flooring in a cold zone. This will warm the floors in the winter.
Tips: you'll want to hand select the similar pieces you want installed similar styles and textures. If you are having them installed professionally, take a look at them and save your receipt to return the rejected stone.. It's likely there will be differences in the grain and color of the stone. Purchase at least 25% more than you need.
Pros: easy to clean, durable surface, Hard.
Tile Kitchen Flooring
For kitchen flooring, tile is a great choice because it is low-maintenance and it offers a reflective quality that increases the size of the space in a kitchen. Plus it is durable and easy to clean.
Some of the latest modern designs are large and rectangular shaped, so it no longer comes exclusively as a 12 inch square. Modern tile designs look like wood and have other patterns and textures.
Tips: For ease of maintenance, install tiles with smallest grout lines. If the subflooring is not perfectly level, hire a professional to install tile.
Pros: moisture resistant, durable, comes in a large assortment of styles, shapes and colors, easy to maintain.
Cons: dropped fragile items like glassware can break easily, difficulty in cleaning grout lines.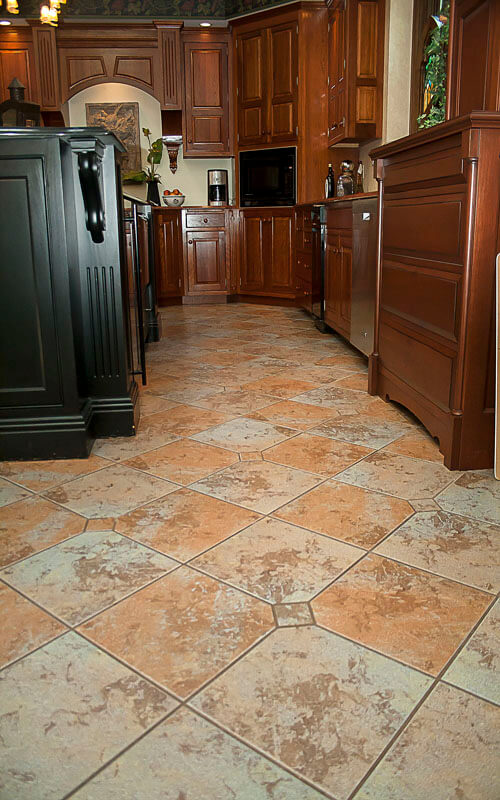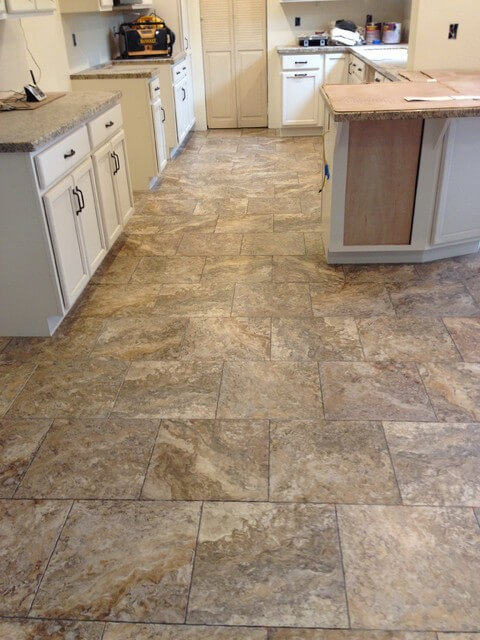 Vinyl Kitchen Flooring
This kitchen flooring is a highly water-resistant kitchen flooring option that is available and it comes in multiple textures and styles. It is highly affordable. Although, tiles are easy to install, sheet vinyl requires professional installation.
Tips: Easy to install, look at the latest wood-look vinyl flooring planks, water resistant enough to be used in a wet area, you need a professional eye to know that it is vinyl flooring and not wood plank, some are textured to mimic wood grain.
Pros: certain styles look just like wood, water resistant, easy to install.
Cons: requires a flawless subfloor to install on, can gouge easily, Offgases potentially harmful chemicals in your home.
Wood Kitchen Flooring
According to grain and age, wood has a classy, warm look that is unique. it tops the buyer's lists for flooring choices but wood requires special protection from excess moisture especially in the kitchen.
Tips: , avoid wider planks especially if you live in an area with high humidity because they warp over time. Add an extra coat of finish in the kitchen to keep the wood sealed.
Pros: attractive, can be refinished, Adds value, durable.
Cons: needs refinishing from time to time, may scratch or get dented, Can be noisy.