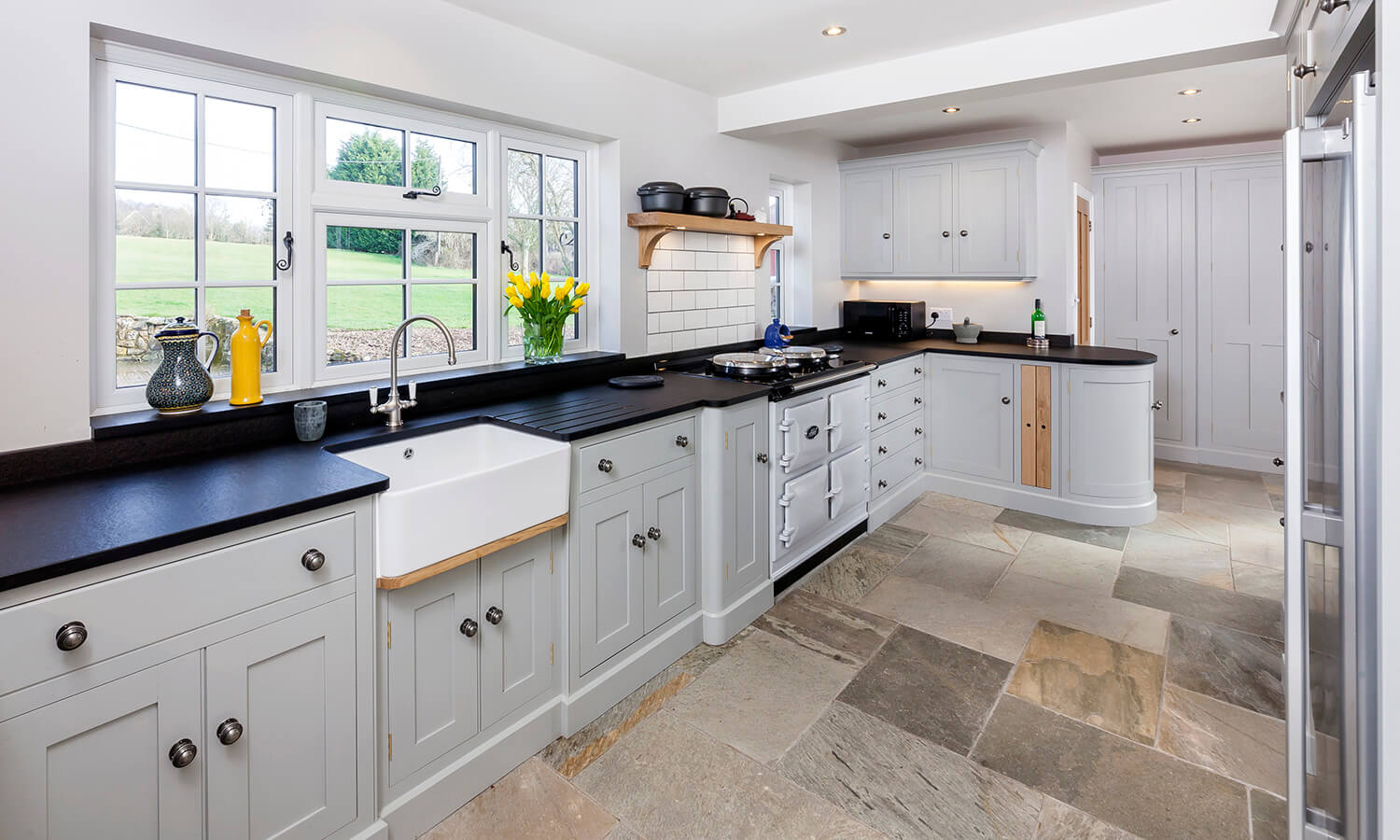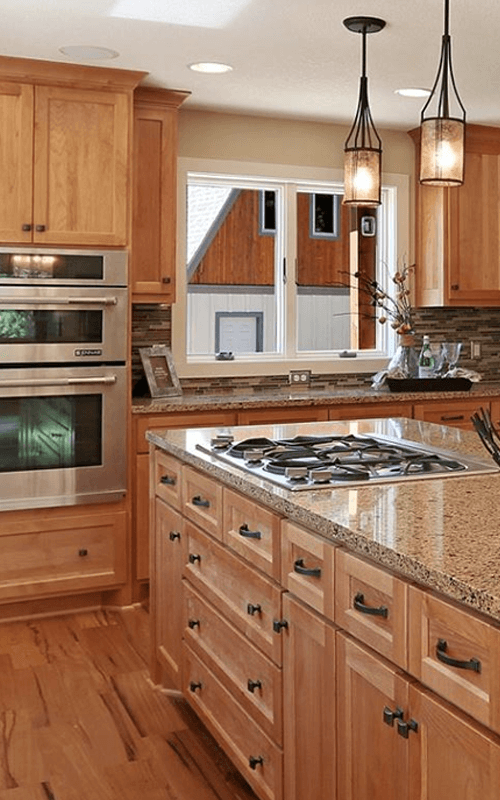 Over the Rainbow
If you can't make up your mind on the particular color you want to use for your cabinets, why don't you mix them all. This will turn out beautiful and be a source of artistic inspiration to you every morning as you take your cup of coffee. If this unique style does not inspire you, I am not sure what will. This creative style is suitable for all those who can't make up their minds and also for those who just choose this color choice. The accessories and colour of other fixtures in the room should be off plain colours, since the cabinets speak for themselves. A light wood floor and white tiles will tone down the colours and make the cabinet the focal point.
All That Glitters is Gold
Why not make use of gold cabinets in your kitchen? After all it is your space, so you can design it however you want. Gold cabinets bring a sense of style into the room. But avoid going overboard with this design, when going bold with metallics keep colors in the other area toned down in order to avoid having a pretentious design. In this design, the designer shows the requisite restraint in the room. Only the upper cabinets faces are where the gold is found, perfected with a beautiful light gray marble backsplash. Only the salt and pepper shakers are designed in gold. The wood kitchen island and black pantry perfectly complements the design.
Why Be Straight?
A perfectly rectangle kitchen island is very common, why not use unusual shapes that can become an instant conversation piece? It becomes boring when your kitchen island is a perfect quadrilateral. When viewing this room, the kitchen cabinets serve as a flawless uncomplicated backdrop and it is big enough to serve a double function as also a pantry space. The wood inserts save the wall unit from being common and the clean lines are kept clean by using cabinet faces that do not need hardware.
Multi-Dimensional Modern Kitchen Cabinet Design
Mixing light and dark colors in a space can create an illusion of a wider area, by drawing the eye in various directions without looking too much. This is a useful design tip especially when working with smaller spaces. Also exposing the stove fan pipe gives an industrial touch thereby warming up the area and increases the room height making the space feel roomier and taller. The illusion of a wider space is more emphasised with the mirrored cabinet finishes. You can install shelves if there is limited storage and there is no extra room for installing cabinets.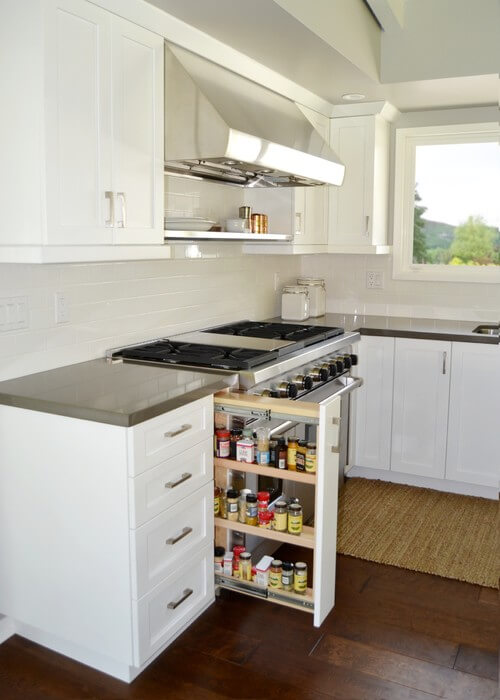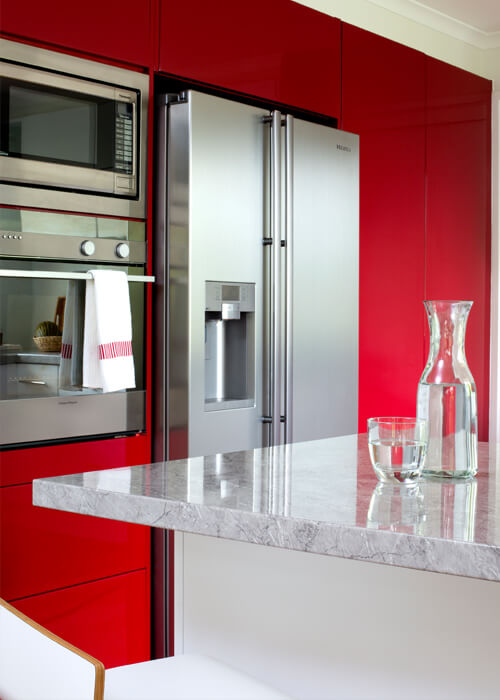 In the Red
Many people love to cook, some people regard it as a hobby while some cook food for sustenance, others burn water. To those that love cooking, they see cooking as a hobby and it ignites a fire in their hearts that cannot be quenched. They are most happy in the kitchen since it is their passion. They enjoy whipping up specialties and take pleasure in the taste and aroma that fills their senses. So if you fall into this category of people, I recommend you use red colour for the kitchen. Red is a lovely color that is perfect for the kitchen cabinets. Using the colour red on your cabinets shows the world your true passion and who you are.
Modern Kitchen Cabinet Idea
Going against the norm is a common criteria for a contemporary design. Mobalco, who is a Spanish manufacturer, pioneered this movement, popularly known around the world for their outstanding use of colour, texture and space to make masterpieces that are stunning as well as functional. Their innovative designs take storage to a new level, leaving the standard horizontal cabinetry aside. Their unique kitchen island design with the textured black cabinet faces goes well with the sleek steel appliances.
Tertiary Touches
Forget the old designs and embrace the new. Gone are the days when selecting cabinets depends on the type of wood grain that matches the floors the best. Modern designs incorporate the so many best possible matches for color combinations ever imagined. So far you can think it, they are people somewhere that can actualise it. The issue cannot be the color, as you can see from the tint of aquamarine ceramic tile in the backsplash to the visible purple of the lower cabinets. There are more colours in the kitchen design than the latest Disney movie. With the aid of the paint store in your area, you can add more colors of your choice. Express yourself, be bold and daring.
Coexistent in Time
Feel free to infuse modern touches into the classic look. If you love the classic look, you can add a touch of contemporary design into the old kitchen style, this serves to update them. Give the space a familiar and comforting feel by incorporating beautiful new pieces into the kitchen. Wood cabinets with sleek handles complements the appliances, also glass gives a peek of what is inside. You could paint the inside of the cabinets and shelves with all sorts of colours to add a splash of color to the room. You can also accessorise with items of similar colours all around the space.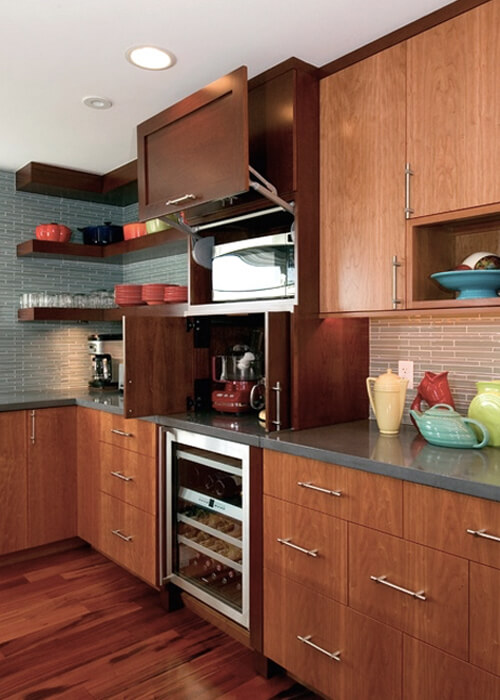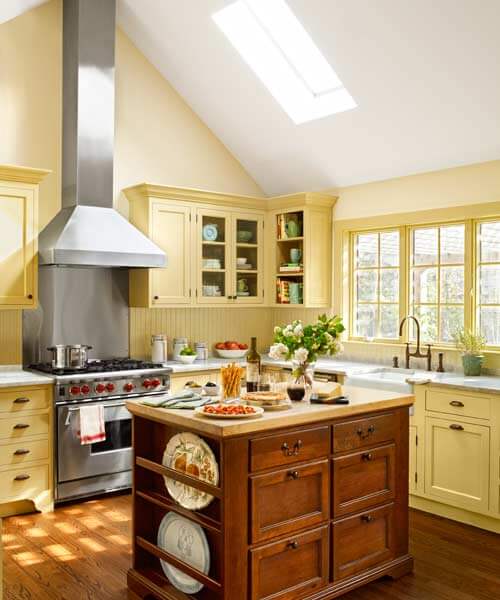 Magical Modulars
Many people go for modular pieces when they want to redo a room or optimize an area in the house. Modular kitchens have a U-shaped, straight, L- shaped, parallel island. Incorporating these pieces in your kitchen does wonders for the kitchen, the styles and color options are available for you to choose which works best for you. This option provides numerous choices for you to choose from, you can easily discover a new world of kitchen ideas unknown to you before. For anyone with a budget, this is perfect for you.
It's the Little Things
If care is not taken a plain baby blue kitchen cabinets can easily fail to create that stunning effect. But as seen here, instead of having this cool blue on only the cabinets, the wood floors balances the colour and is extended to the backsplash and countertop. The wood used on these surfaces should be durable enough to withstand the daily abuse it will be subjected to. A water -sealed backsplash is highly recommended because you'd be shocked the amount of splash that gets there.
Purple Passion
The star of open floor plans in homes is the kitchen, especially when they are painted with bold colours, just as this lighter aubergine one. The monochromatic floors colored white and black as the rest of the furnishings. This makes the cabinetry the focal point of the whole room likewise surrounding areas. Due to the advancement in design, many people are now becoming fearless in designing their spaces. People are now free to let their personalities shine through their designs. Daring color choices are now being made than eccentric ones.
Mathematical Marvels
In modern home decor, geometric shapes are becoming more popular. They are intrinsically incorporated in contemporary kitchen cabinets. Usually, cabinets come in rectangular and square shapes, after a while the world accepted this design. Now we have unlimited choices that can be used for the space which we spend most out time in. These array of shapes can be coloured and fit in various areas, making the cabinets the essence of the housing decor.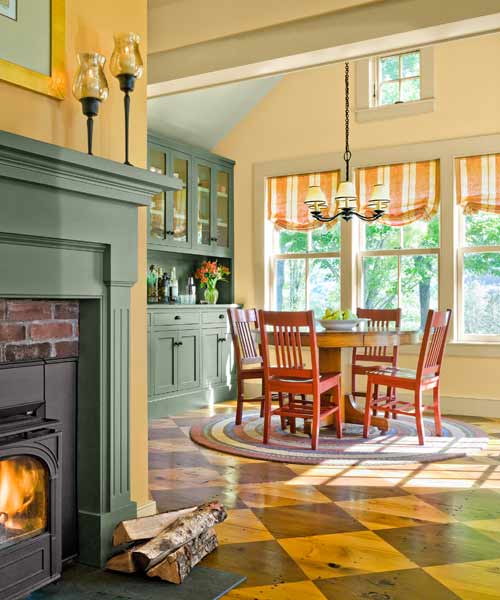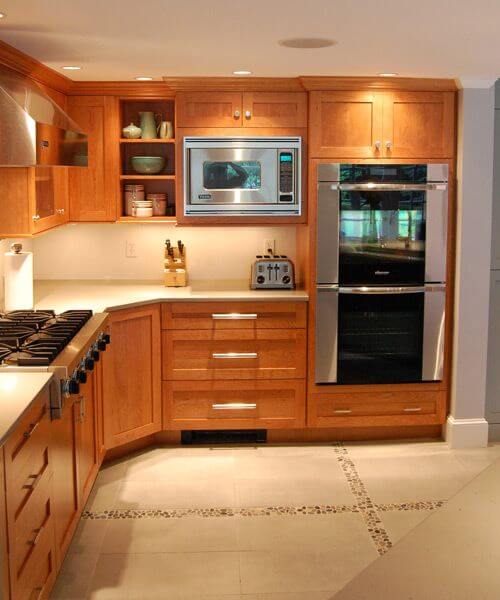 Colored Modern Kitchen Cabinets
Just as black and white, the colours brown and cream goes well together. They match well and the accent well. As we can see all the colors that are combined in tasteful unison. The lovely white cabinets are built in, while dark brown envelopes the cabinets themselves, giving the whole wall a creative art outlook. With the addition of extra cabinets in the island, space and storage are equally maximised. The cabinets are enveloped in cream granite while the black accents goes well with the floor. Giving the a lovely contemporary look.
Wait – That's a KITCHEN?
Today's contemporary design are remarkable and breathtaking at the same time. Most times a modern room can take your breath away just by walking into the room and you recognise the purpose of the space. There are many images that have been shown to you above, but none has been quite as beautiful as this white and black design with cabinets coloured turquoise and accents. It looks like an office space but it functions as a kitchen. It is innovative as well as beautiful to see. Bringing a bold cabinet color into a monochrome kitchen creates a stunning outlook. Use this same bold colour in certain areas around the space.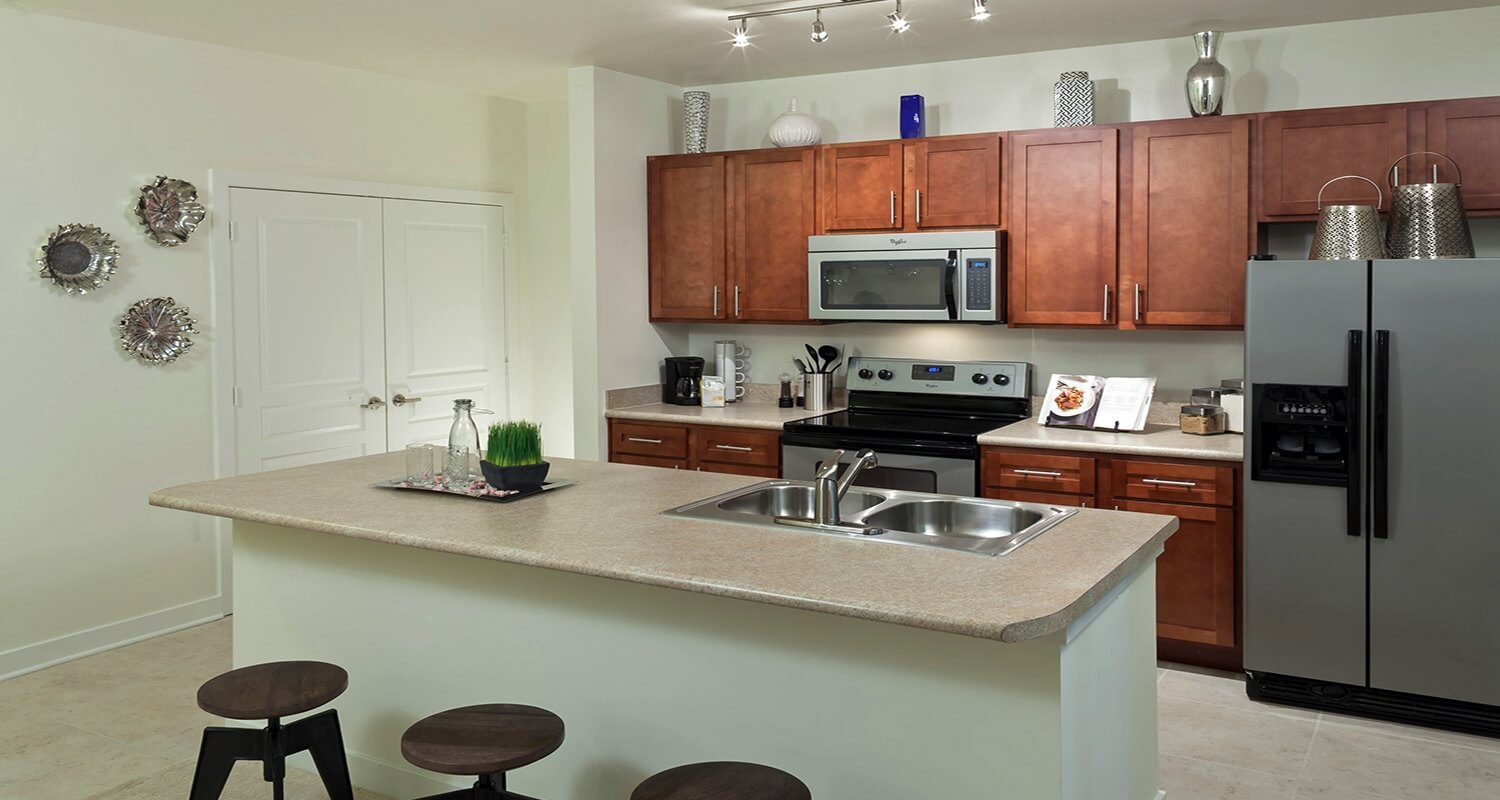 Useful ways Modern Kitchen Cabinets Can make a room look beautiful
Relating to the present than the past is the key in modernizing an area. The fear of what is considered modern now, might go out of style in the future; becomes the worry of most people. But the fact is a great design can not go out of style, there will be something that can be easily added to spice it up. A great design still remains fresh and in-style for many years to come. Just focus on you and express yourself in your design. Whether you are updating your home or wardrobe, always decide what suits you. Magazines will always feature up coming designs and trends every season, that does not mean you have to keep up with the seasonal trends. We all have our unique styles and tastes, use yours to your advantage when designing anything. Make use of your favourite colour, wood or tastes in designing your space. Express your unique self and personality through your designs, do not be afraid to match and mix. Feel free to mix old and new designs in your space. Just do it your way, since you are the one entertaining and cooking there for years to come. Have fun creating a comfortable space for you and your loved ones.