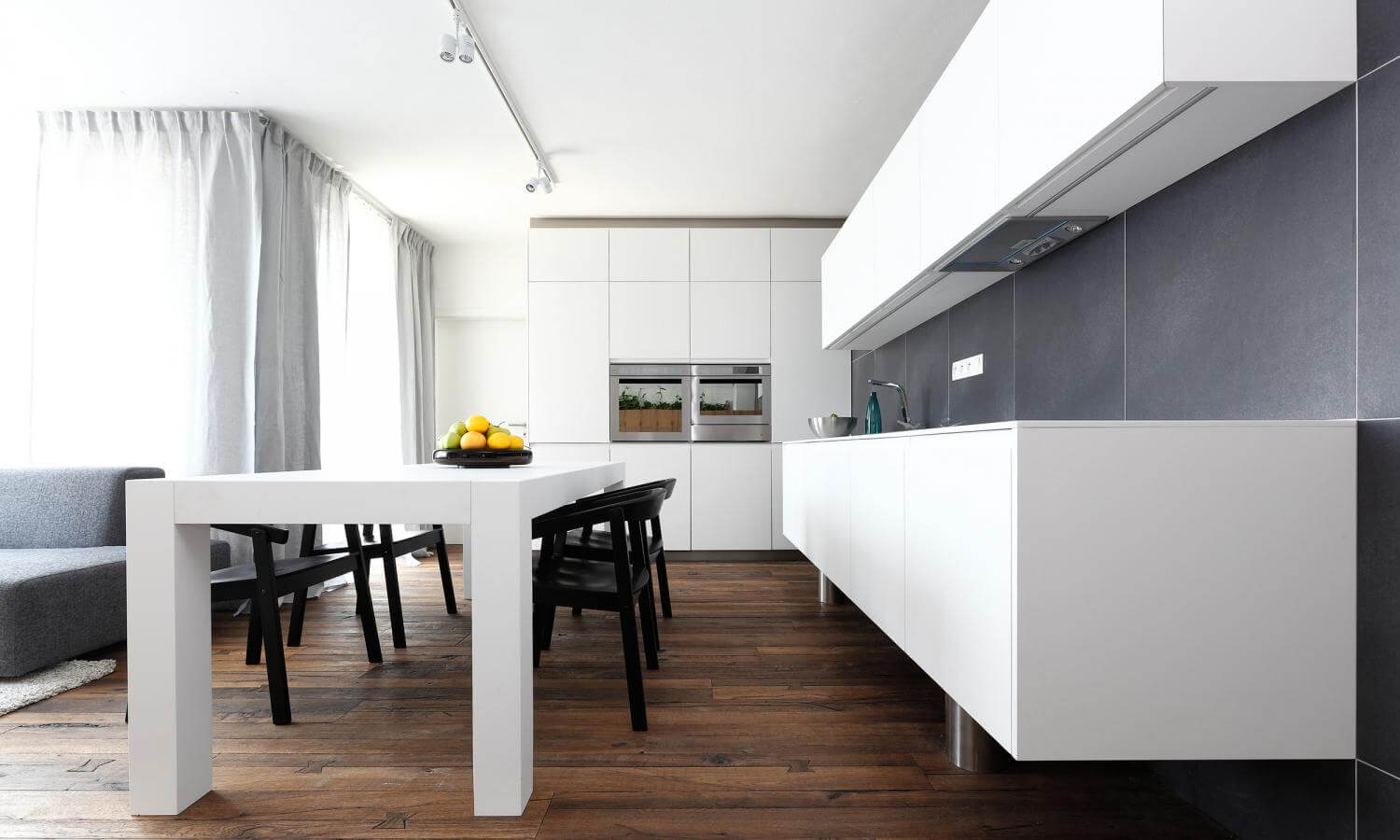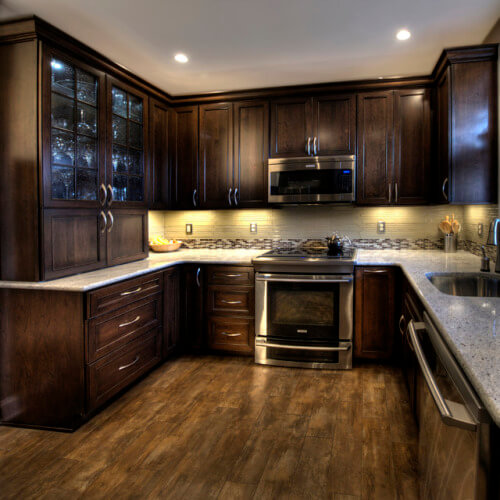 Cubbies, Shelves and Cabinets
There is charm in every corner of an ultra-modern kitchen, where your appliances and clutter are properly hidden in oversized kitchen storage cabinets. They are different array of shelves and hooks; some are colored, semi-see-through glass doors that can be used to place, show-off, hang and every trinket you own. When you own a kitchen like this, changing up the scenery becomes very simple as rearranging the shelves or hanging something new.
Magnificent Minibars
If you have a corner in your kitchen that you not certain what to do with it, you can add in a minibar than a desk. A desk might just be used to collect junk mean while you can install a modern kitchen cabinet with no doors above a small counter instead. You can easily have a corner minibar, just with recessed lighting, breathtaking glasses, comfortable seating and your favourite beverages.
Modern Kitchen Cabinet with white Design
There is nothing like painting the kitchen white, it gives the space a crisp and clean look. By adding white to the kitchen gives a fresh, tidy and inviting look to the space. Add an air of old-world with luxury White wooden floors, you can use thermofoil kitchen cabinets if you are worried about stains. Thermofoil give a high-gloss look and is also easy to clean, easy to maintain. The cream coloured countertops intricately links the white cabinets to the floor.
The Optical Illusion
There is opportunity for various customization possibilities focusing on silver and black. laminate the cabinet fronts with black granite countertops. you can also use a wood floor to keep the space inviting and a matte black backsplash keeps the space from becoming too busy.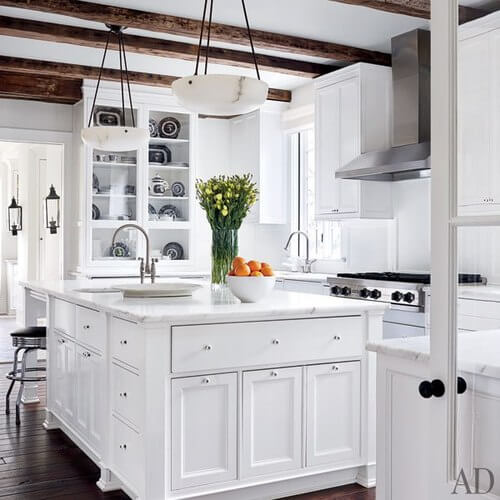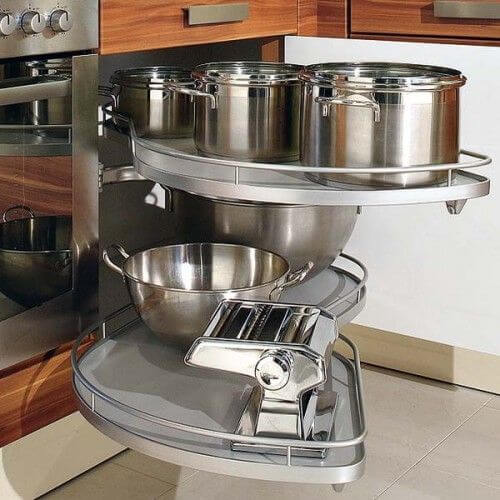 Optimal Organization
Whether our trinkets are showcased or not, there seem not to be enough room for what we want to store in our kitchens. The kitchen cabinets should be aesthetically pleasing because they are the focal point of the room. Their primary function is to provide a space for storage but that does not mean that they have to be boring.
The Executive
Give your kitchen a modern style with embellishments and elegant furnishings in classic woodgrain. You can also get the classic executive look with black and silver in the kitchen. The space can become truly unique with the different heights seen here, the island and drawers underneath the counter have matching design while the upper cabinets is designed with glass surrounded by black gives a sneak view of what is stored inside. The white counter space and island topper brightens up the room in a classic way.
The Lighting is everything!
Make your kitchen shine with custom stainless steel cabinets and appliances. The monotony is been broken in an breathtaking way by the exquisite grey marble behind the range. The lighting strategically placed is the key to designing your kitchen. Use track lighting and turquoise rope light for the maximum glow, when the lower length of the cabinet is lined with turquoise rope light it gives breathtaking results. Go for unique ideas when designing your kitchen.
Lines of Love
Character and style are important elements found in modern kitchens and the key features in a modern kitchen include bursts of colours, cubbies and built-in appliances. The minimalist cabinet fronts here are a fun mix of colours and lines below the counter area. There are white cabinets that are simple and elegant. To get that perfect complimentary colour check out coordinating colour swatches in designing a room similar to this. You can break up the space and create focal points by laying a similar coloured rug or placing an exquisite vase.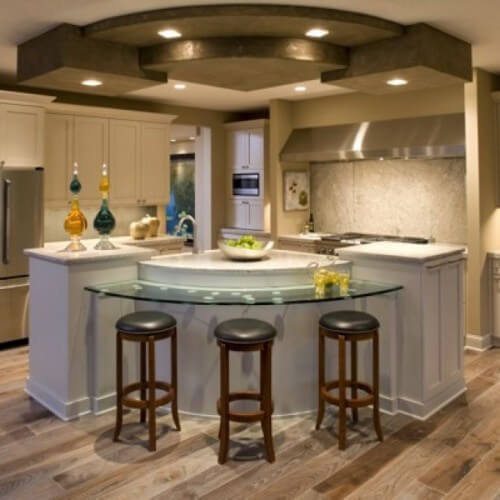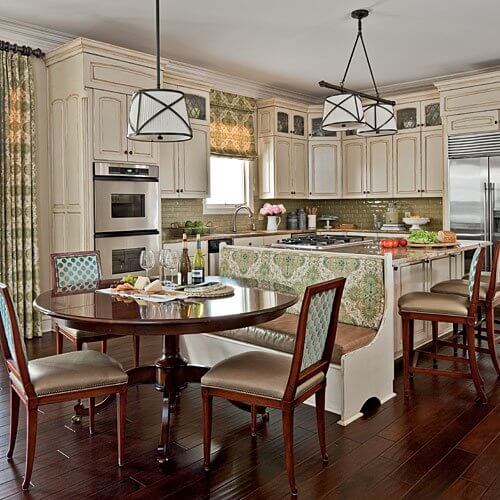 The Look That's All You
The way you can customise and design your kitchen is limitless. In recent times, the style people desire is new, fresh, and elegant. Just as home decorations vary, modern cabinets and Worktops vary also; you can incorporate most of these styles into your kitchen to create something that is uniquely yours. Are you looking for designs suited for Iarge dinners or for hosting guests? Do you fancy a built-in bar or a kitchen island with many seats? No matter what you want, your needs can be met with the appropriate cabinet.
Swimmingly Superb
A bold or dark-coloured paint is paired perfectly with a minimalist white Corian cabinets and countertops. This style is perfect for an upgraded hostel, hotels or even highly-travelled spaces. The advantage to this style is the durability and low maintenance coupled with its easy installation. Add colour in a lively way by placing a live fish in a kitchen space. It gives the kitchen a surprising touch by creating a pleasant focal point. Make use of an open design when designing a studio apartment since the use of space is critical.