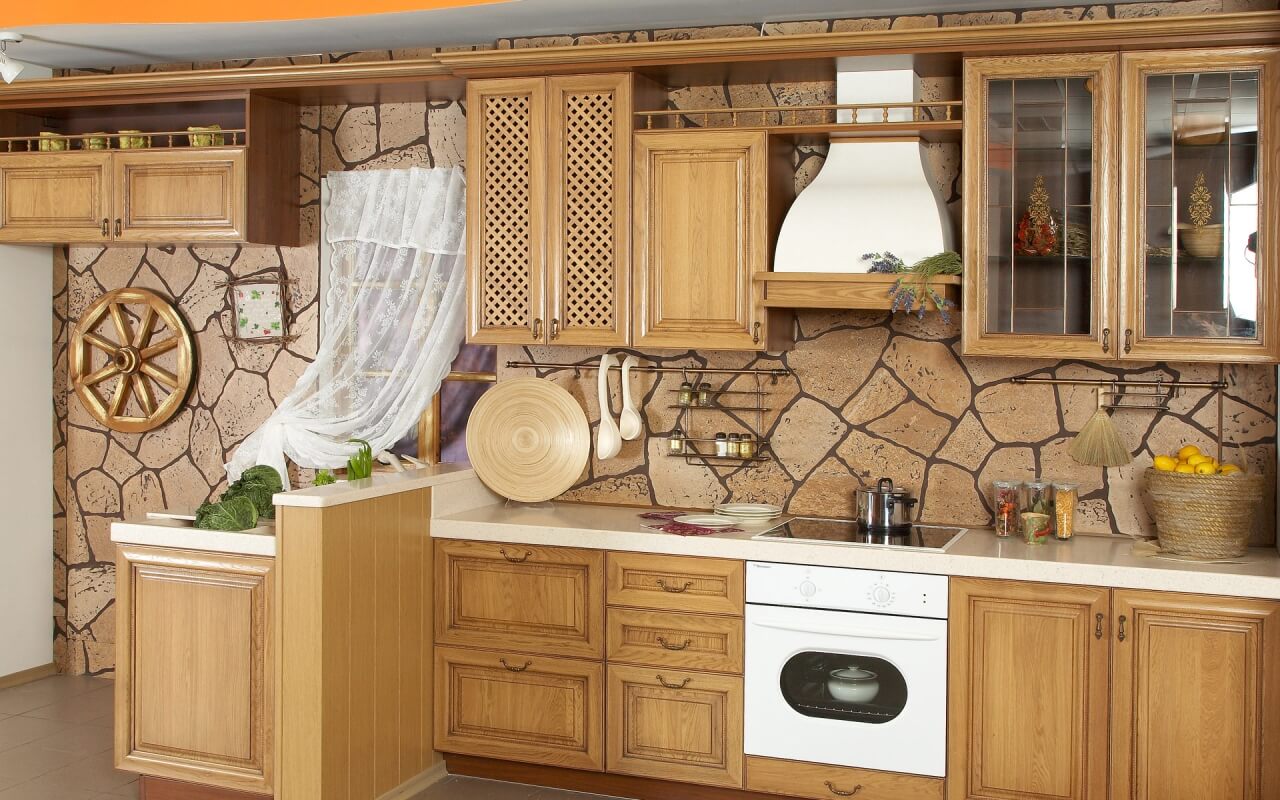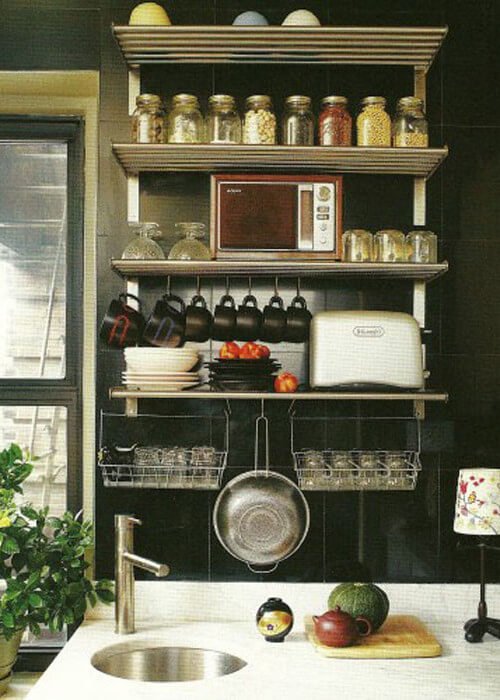 1. DOWNSIZE IT
The size of space can determine the design, most times designing a space to be functional can be tasking especially when is limited. Even more so, after you consider style, storage and even the challenge of including fixtures. Let us be reasonable; a kitchen can't serve all functions- laundry, recipe hunting, accommodating schoolwork, mail and cooking duties. A kitchen cannot meet all this function especially if you cook in them, but if you don't feel free to utilize your kitchen anyway you want. The main chore in all kitchens is meal prep, and when you have a small sized kitchen, it is important to have this fact at the back of your mind when designing. First focus on function, make sure all the appliances you need are what you have. You can also consider getting appliances that are innovative or scaled-down like freezer drawers, single sink, pint-sized microwaves, double burner stoves and a fridge. These appliances serve various functions without taking up much space. Also, consider a counter-topped cart or a small-scale island that can be rolled away when not in use.
2. OPEN IT UP
Installing overhead cabinets in a Tiny Kitchen shrinks the limited space, making the space feel claustrophobic. You can't also afford the luxury of getting a stool or a ladder since that will take up more space because many cooks cannot reach for what is stored in them. If you can trade top cupboards for open storage, that would be advisable. Also consider making use of shelves, spice holders, magnetic knife and pot racks instead, they not only make your kitchen more spacious they also help you showcase your favorite dishes and pans.
3. MIX UP THE MATERIALS
Even though you have limited space, you still have lots of choices and the fact is, there are more choices available to a small space than in a larger one. When designing a small space, everything has to work even the surface materials, mix of wood and metals, unlike when you are designing a larger space where you can infuse different styles and designs. Maybe your small sized kitchen lacks interesting architectural details; it is now up to you to create a compelling fixtures, cabinetry, flooring, color, countertop surfaces and lighting. Look for areas where you can add an interesting detail and remember to use the similar style and colors of cabinets and fixtures when designing a small spaced kitchen.
4. LOOK INTO IT
Making use of glass in designing your kitchen naturally expands the room in a simple way. You can be able to see through objects and this gives you the feeling of spaciousness or negative space as designers call it. Visually expand the space by using glass tabletop, door cabinets or counter, or kitchen doors made from glass, so that the outside world can easily be seen. You can also make use reflective glass tiles; they can add the sparkle to your kitchen. Strategically placed mirrors can lighten up the room.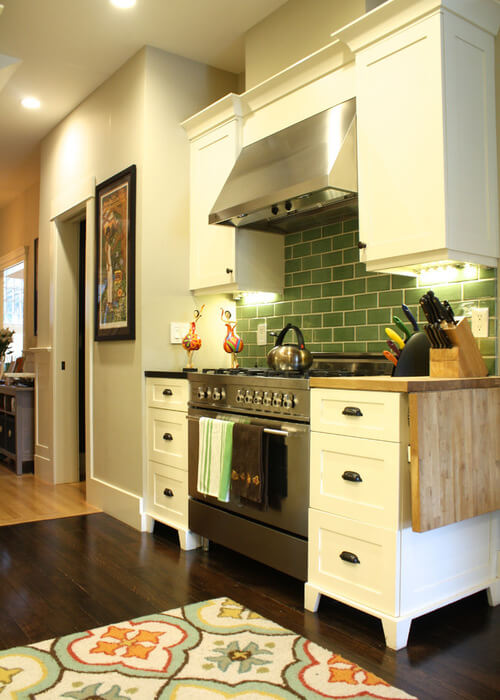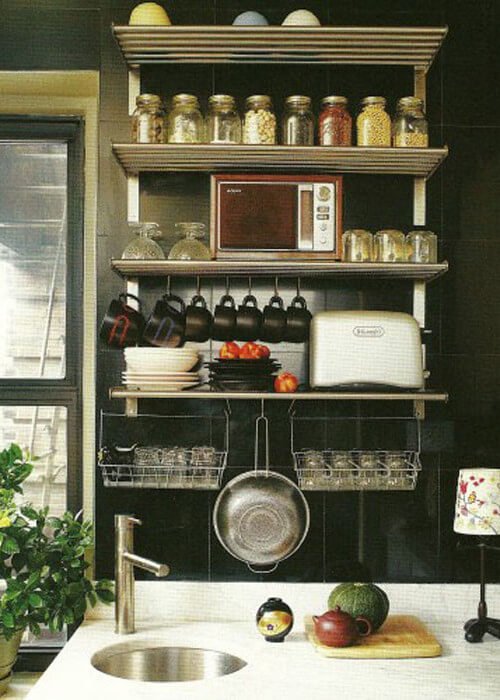 5. LIGHT IT UP
The combination of atmospheric lighting and task is what is needed in most kitchens, likewise in other rooms too. Fluorescent lighting is frequently found in most kitchens because it casts a bluish light on objects in the room including the food. Also, consider installing pendant lights in your eating area to give it a more appetizing color. You can also make use of these easy ways to optimize the feeling of size in your small kitchen:
• Underneath the upper cabinets shining down on the countertops, you can use incandescent lighting. Direct ceiling incandescent spot lighting to face the cabinetry, this will greater visual movement and increase the feeling of space by giving the area a light and dark contrast as opposed fluorescent lighting.
• Lighting can be installed under the base cabinetry. In recent years, lightening has been installed to reflect on the flooring of rooms.
6. GET FLOORED
Flooring in a small spaced kitchen is so important; usually, our eye goes down when we walk into a room. Even the tiniest detail is often noticed times; you can get a checkerboard black and white flooring in a small space. This serves the function of brightening the whole room and it is an inexpensive choice.
Because dimensions are diminutive, you can get a beautiful tumbled marble; this gives you an outdoor feeling. The marble flooring might feel cold and hard on the feet, but they are worth it. Another choice of flooring you can go for is the cork. This is the most common flooring used in most kitchens in America, but you have to make sure that they are properly sealed because water can expand them. Other than that, Cork is a beautiful choice.
7. COLOR IT BIG
It is important to keep in mind the color of various kitchen features such as counters, appliances, stools and walls because they have the ability to change the perceived size and atmosphere of the kitchen. Making use of light colors makes the room seem bigger; it reflects the light thereby drawing the eyes upward. But that does not mean you cannot add bold colors in the kitchen making use of bold colorations in smaller kitchens can be equally beautiful.
8. COMFORT IS KEY
After discussing ways of increasing the visual size of a small spaced kitchen with color, layout, and designs. But it is not always important to increase the room size through interior designs, especially when decorating a smaller space. You can also create a comfortable, cozy space without touching the existing architecture of the space. You can embrace the size of the space rather than seek ways to enlarge it. Designing the space by embracing the size of the space, it is advisable to go country cozy rather than sleek or light. Although your kitchen space maybe small, there is nothing stopping it from looking sexy, you can achieve a sophisticated look for your small sized kitchen with colors that are rich and dark; you can also make use of different accessories in the design.